What is chamomile?
Chamomile is a very common plant, better known by sight as the daisy. Although there are over 23,o00 species of daisy, he two most recognized species are the German and Roman chamomile and are also the most widely used in a medicinal way.
Where can I find chamomile?
Chamomile is native to Europe, Asia and India. It grows abundantly in the wild in the United States. You can find it growing wildly in the countryside, in fields and pastures. It is also a common staple of household gardens and can be found at most home improvement stores when the weather is favorable.
What are the medicinal uses for chamomile?
Chamomile is best known for it's calming properties. It's a great way to help you de-stress and has been proven to help people sleep better and to fall asleep faster.
It is used to treat more serious ailments such as digestive issues, PMS symptoms, diabetes, osteoporosis and inflammation as well as treating many every day irritants like pinkeye, toothaches, allergies and sunburn. There is even evidence that chamomile can boost your immune system.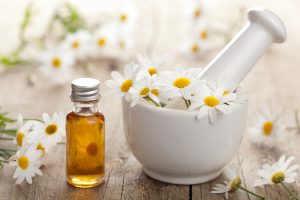 How do you consume chamomile?
The most common way people consume chamomile is in the form of chamomile tea. It's extremely popular around the US and in Europe. See recipe below. It isn't just for tea, though. Chamomile can be added to nearly any food and beverage you desire. There are recipes for chamomile Kool-Aid, popsicles, smoothies and lattes.
Another popular method is to use chamomile to make soothing bath salts and scrubs. Chamomile can be made into balms and lotions for topical application. It is even infused into shampoo and body wash for an extra calming shower time.
Basic Chamomile Tea Recipe
Ingredients:
1 handful of fresh chamomile flowers (about half a cup)
8 ounces boiling water
Freshly squeezed lemon juice
Directions:
Remove the entire flower head from the stem. Rinse the  flowers in warm water and pat dry.
Boil the water in a tea kettle or large pot on the stove.
Place the flower petals in an infuser and let the tea steep for about 5 minutes.
Remove the flower petals and pour tea into a cup.
Add honey or sugar and lemon to taste.
Being such a versatile plant, chamomile tea can be infused with any number of other herbs and spices such as ginger, cinnamon, lavender and turmeric. The possibilities are endless!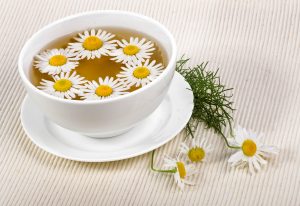 CONDITIONS OF USE AND IMPORTANT INFORMATION: This information is meant to supplement, not replace advice from your doctor or healthcare provider and is not meant to cover all possible uses, precautions, interactions or adverse effects. This information may not fit your specific health circumstances. Never delay or disregard seeking professional medical advice from your doctor or another qualified healthcare provider because of something you have read on Moms Med Pedia. You should always speak with your doctor or health care professional before you start, stop, or change any prescribed part of your health care plan or treatment and to determine what course of therapy is right for you. Moms Med Pedia may not be held accountable for your actions if you try anything you've read here without consulting a physician first.