It's not a weed! The many uses of plantain leaves.
What is plantain?
The plantain leaf plant is often confused with the banana-like fruit of the same name, although the two plants are very different. There are two varieties of plantain –  the ones with broad leaves are called Plantago major and the ones with narrow leaves are called P. lanceolata. Plantain plants aren't the prettiest of flora and are often dismissed as weeds. Plantain leaves are used all over the world in folk medicine as well as in every day alternative medicine uses.
Where can I find plantain leaves?
The plantain herb is native to Europe and parts of Asia. However, it grows in abundance in the United States, both in the wild and right in your own backyard. It's incredibly easy to grow in your own garden and you likely already have some growing.
What are the medicinal uses for plantain?
The plantain herb is very powerful and useful for treating a variety of conditions. Native cultures have used it for generations to treat respiratory disorders like asthma, GI disorders, arthritis, urinary tract infections, skin conditions like eczema, nervous system disorders, cardiovascular diseases and many others. Plantain is recommended for treating chronic coughs in children and adults. There is even evidence that extracts from the leaves are resistant against harmful organisms.
Many Native Americans use plantain leaves to help ease the pain and itchiness of bee stings, mosquito bites, other insect bites, and rashes from poison ivy or poison oak. The plant is even known to reduce the pain and stinging of sunburn.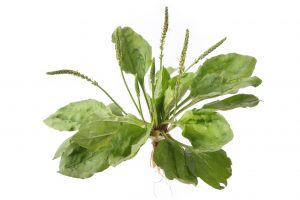 How do you consume plantain?
Plantain leaves are very versatile. The simplest way to consume plantain is by eating the leaves. They can be added to salads or used as wraps. They can be chewed to relieve cough, mouth sores, and respiratory symptoms. The leaves can be ground up into a paste to treat insect bites, stings, cuts and burns. Most often, the leaves are dried, ground and used to make tea, which can be drunk, gargled, or applied to the skin. See recipe below.
Plantain Tea Recipe
Ingredients:
1 cup fresh plantain leaves, free of pesticides
2 cups water
Directions:
 Wash the plantain leaves thoroughly and put them in a covered bowl.
 Boil the water then pour over the leaves in the bowl,
 Cover the bowl let the leaves steep until the water becomes cold.
 Strain out the tea and store in the refrigerator for up to two weeks.
 Add honey if desired.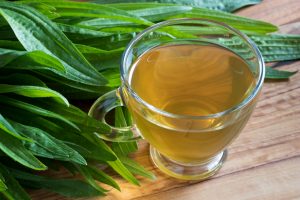 CONDITIONS OF USE AND IMPORTANT INFORMATION: This information is meant to supplement, not replace advice from your doctor or healthcare provider and is not meant to cover all possible uses, precautions, interactions or adverse effects. This information may not fit your specific health circumstances. Never delay or disregard seeking professional medical advice from your doctor or another qualified healthcare provider because of something you have read on Moms Med Pedia. You should always speak with your doctor or health care professional before you start, stop, or change any prescribed part of your health care plan or treatment and to determine what course of therapy is right for you. Moms Med Pedia may not be held accountable for your actions if you try anything you've read here without consulting a physician first.